I know when you think about a versatile piece in your wardrobe, a slip dress isn't the first thing that comes to mind. We all know that it's a flattering option to wear in the warmer months and even a sexy piece you may want to wear when it's you and that special someone, so it makes sense that it wouldn't be what you consider to wear in cold weather. But I'm going to show you a look that's ideal on how to make it work in winter.
SLIP DRESS
The key to making a slip dress transition from season to season is layering. This is what gives it so much versatility to style in a way that works for you and your personal style. And the great thing about layering is you more than liking already own the pieces you would use to style the slip dress, which is exactly what I did.
The slip dress I wore was simple yet chic with ruffle details at the top wearing my jeans underneath with them rolled up. Also don't think that just because you wear a silk slip dress that it can only be worn super feminine, because that's not the case. Style of course always plays a role in my looks, but warmth is important as well which makes jeans a great choice for something a bit different.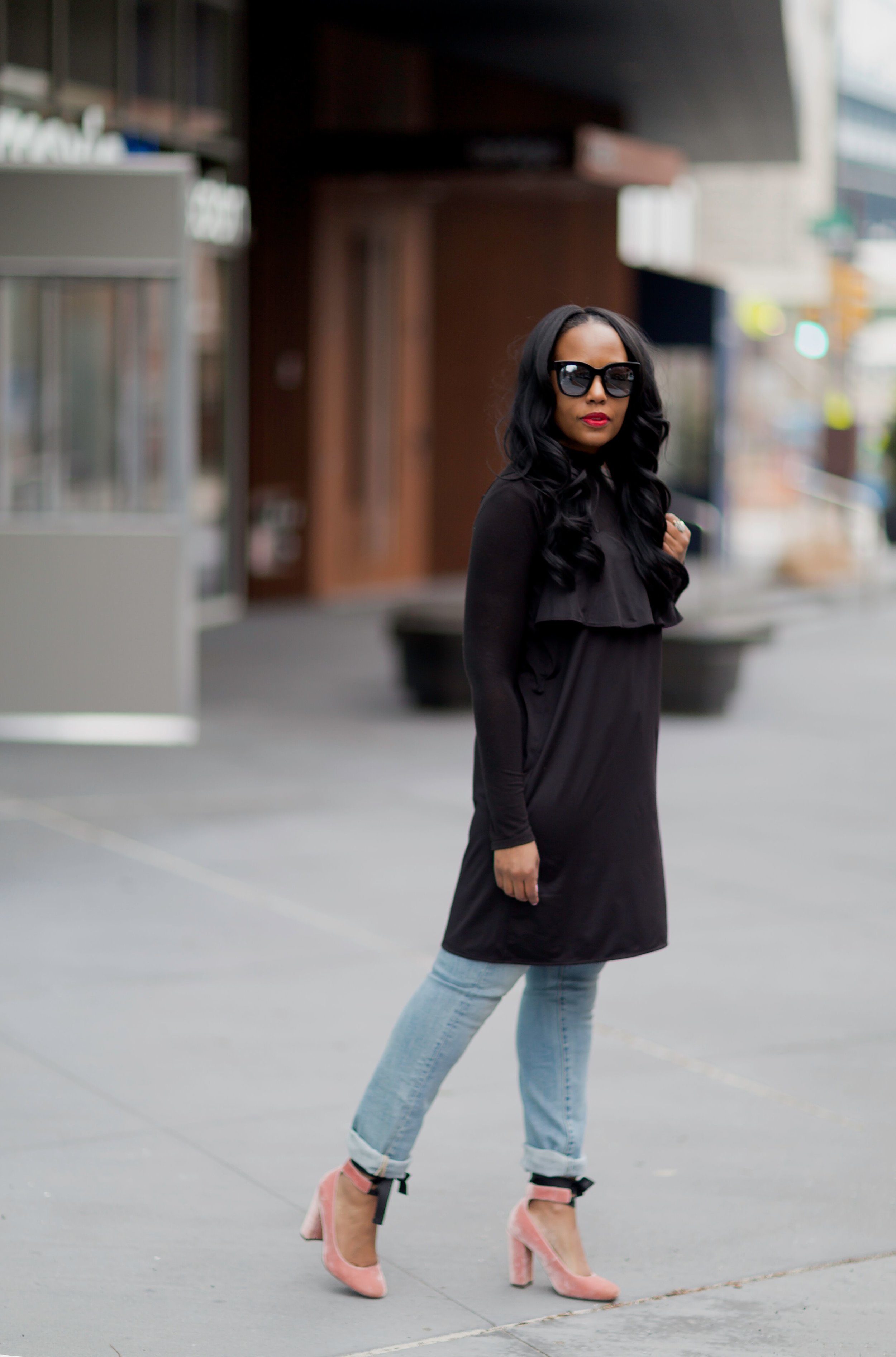 A turtleneck was the second option worn under the slip dress and I decided to stick with black, but bright colors are definitely a fun choose during winter to get away from standard black when you want to switch it up. I added a pink flower pin to the dress as my statement piece that played off of the pink velvet tie up shoes that I wore. This was an easy look that can be dressed up or down and you can mix it up anyway you like with layers, layers and more layers.
STYLING TIPS
Here are a few other ideas on how to wear a slip dress in the winter.
Wear one over a long-sleeved mesh tee

Try one over a button-down with exaggerated sleeves and sleek boots

Cinch a corset around your slip and wear with a turtleneck underneath

Add some edge to your slip with your leather jacket

Contrast fabrics by throwing a wool sweater over your silk slip and wear a pair of satin booties
Share your comments on wearing a slip dress in the winter and how you would style it. Thank you for stopping by!