Hello my loves, so I think it's pretty safe to say that most of us love denim. I mean the truth of the matter is denim is an easy, fun way to dress up or down a look without to much fuss because it goes with everything. Now you may own a pair of jeans that fit you great but maybe your not as fond of the style anymore or how the bottoms look, well I have a solution for that! Instead of getting rid of the jeans altogether why not do a diy and make them into cut off short. That's exactly what I did to my jeans that I still loved and fit me great but I just didn't like the cut of them anymore when it came to the pants leg so I cut them off and hence made my favorite cut offs that I wear all the time. I show you three ways that I styled them that can recreated to fit your personal style.
With an off the shoulder top
Off the shoulder tops are a great option when pairing with cut offs. They're simple but still chic so you look pulled together with very little effort. Now I styled this look with heels, but it would look just as good with flat sandals or even sneakers for a more laid back casual look. I'm big on adding accessories whenever possible and hats are always a great choice they can bring a look completely together and give a whole new vibe.
A button down shirt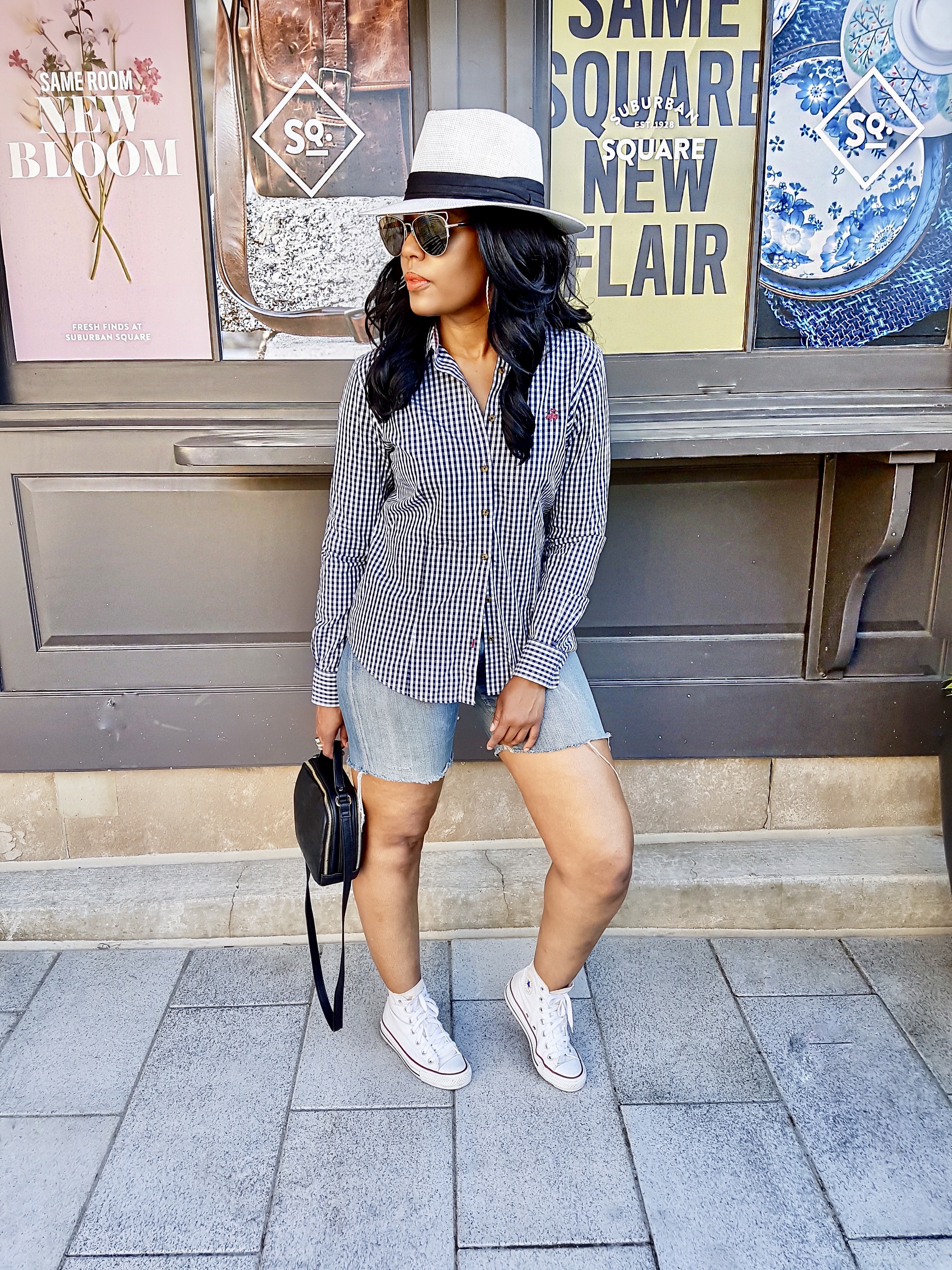 Now this is definitely what I call a casual chilling on the weekend look. I paired a button down gingham top with the cut offs which is a great option because you probably already own one that maybe you only wear to work, so this is the perfect way to restyle it and have a totally new look. If you like a more oversized button down try shopping for one in the men's section they have great ones. A pair of high top Converse and yes another hat finishes off the outfit.
Statement Top
I love wearing white during the warmer seasons so this white top was a no brainer when it came to rocking them with the cut offs. The beautiful puff sleeves with gold buttons is all the statement you need to make this look chic and stylish. The gold mules are an added touch which helps to complement this look because the top does all the work.
You can take a look at my prior post that I did with these same jeans with just one look but I loved them so much I had to restyle them again to give you even more looks to try.
Style Hack
Before rushing to buy a pair of denim cut off shorts at the store go through your closet and find a pair of jeans that you can cut yourself, it's easy, you'll get wear out of jeans that were just taking up space in your closet and you'll save some money in the long run.
Comment and let me know would you try a diy and make your own cut off shorts.